Over the last five years, townhomes in Squamish have experienced the highest appreciation in value than any other type of dwelling. The chart below outlines the sales figures for all townhouses on the market in September, 2017: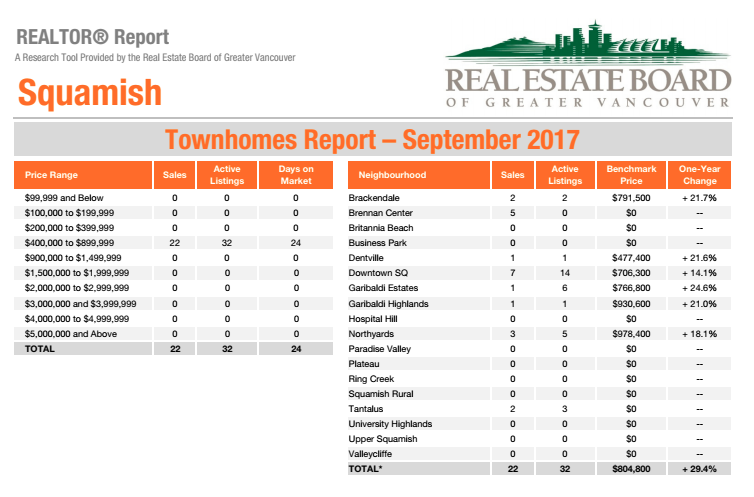 As you can see from the "One-Year Change" column, the average benchmark price for a townhouse in Squamish has gone up by 29.4% in the past year alone! The average price for a townhouse is now $804,800. That's great news if you have owned a townhome in Squamish for a year or more, as you've already built up as much as 30% in equity or more. If you've owned your townhome for 3 years, 5 years, 10 years, it will have appreciated by approximately 115%, 127%, or 135% respectively.
Additionally, Squamish townhouses are in such high demand that they are sitting on the market for an average of a mere 24 days. That's shorter than the average time on the market for condos (38 days), and detached houses (83 days) for sale.
The escalation in average sale price and the short turnaround time for sales, make it an attractive time to sell your townhouse. If you're considering selling in the next few months, be sure to ask me for a complimentary home evaluation as a starting point to putting your townhouse on the market.
If, however, you are in the market to buy a Squamish townhouse, don't be disheartened by the climbing prices. Townhouses in Squamish are still, square foot for square foot, a better buy than local condos.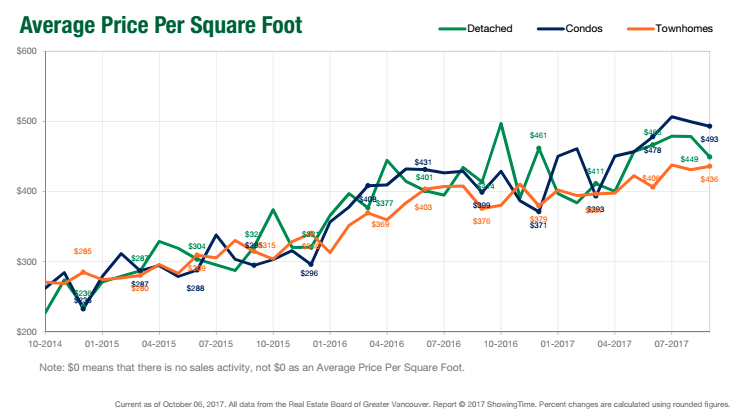 The chart above illustrates the average price per square foot of condos, townhomes, and detached homes in Squamish since 2014. Townhouses, in fact, are still the most affordable housing option in Squamish, when comparing the per-square-foot cost.
Current (as of September 2017) average cost per square foot of Squamish dwelling types: 
Squamish Townhouses – $436

Squamish Detached House – $449

Squamish Condo – $493
If you want more information on buying a townhouse in Squamish, start by contacting me and I'll help you gain a clear picture of what properties might be a good fit for you and your budget.